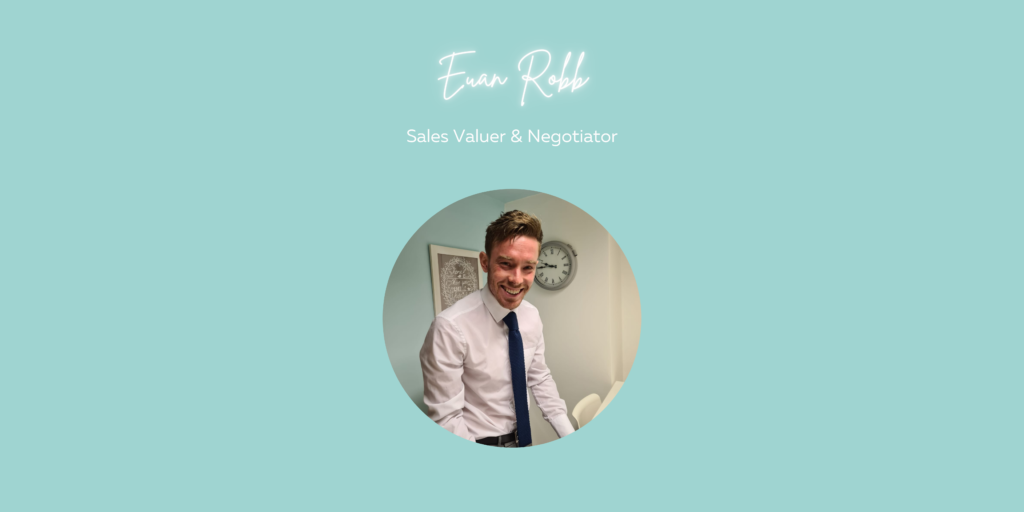 Sales Valuer & Negotiator
This is Euan, he is our Valuer and visits prospective clients to discuss the marketing of there home. He started 9 years ago and as well as working in the Sales side of the business he Volunteers with and coordinates our Fundraising for Kilbryde Hospice. When not working Euan spends his free time walking (or being walked by) his Dogs Maverick and Daisy.  
Euan manages our Kilbryde Hospice Fundraising and encourages other staff members to take on personal challenges to raise funds for the charity. He assisted in the organising of an Office held Charity night in Aid of Kilbryde on the 1st of October 2018 which raised £5375.
Following that event Euan accepted an invitation to be a Corporate Ambassador for Kilbryde as part of the newly formed Corporate Challenge - an initiative setup in February 2019 challenging businesses to raise funds. He was subsequently awarded Corporate Challenge Champion at a black-tie ball in January 2020 for his commitment to the project. The Property Store are now beginning their 4th year of fundraising and have raised in excess of £25,000 in that time.
As Valuer for The Property Store Euan's job role affords him a unique opportunity to raise awareness of Kilbryde with the final few minutes of his valuations dedicated to speaking about The Hospice. In addition to this for the past two years he has volunteered as a Befriender with Kilbryde Hospice pairing him with a patient who may be feeling isolated or lonely. In his role Euan meets with that person weekly to chat and in doing so provides some comfort and emotional support.
In recognition of his work with The Hospice Euan has been invited to attend The Royal Garden Party in June 2022 which is a huge honour and something he is incredibly excited about.
Our staff recently completed a Myres Briggs personality survey. Euan is an ESTJ - "The Executive". He shares this personality type with the likes of George W. Bush, Bette Davis and John D. Rockefeller. These personality types are representatives of tradition and order, utilizing their understanding of what is right and wrong and bring families and communities together.